How We Created The Worlds FIRST
All-In-One AI Driven CRM

Solution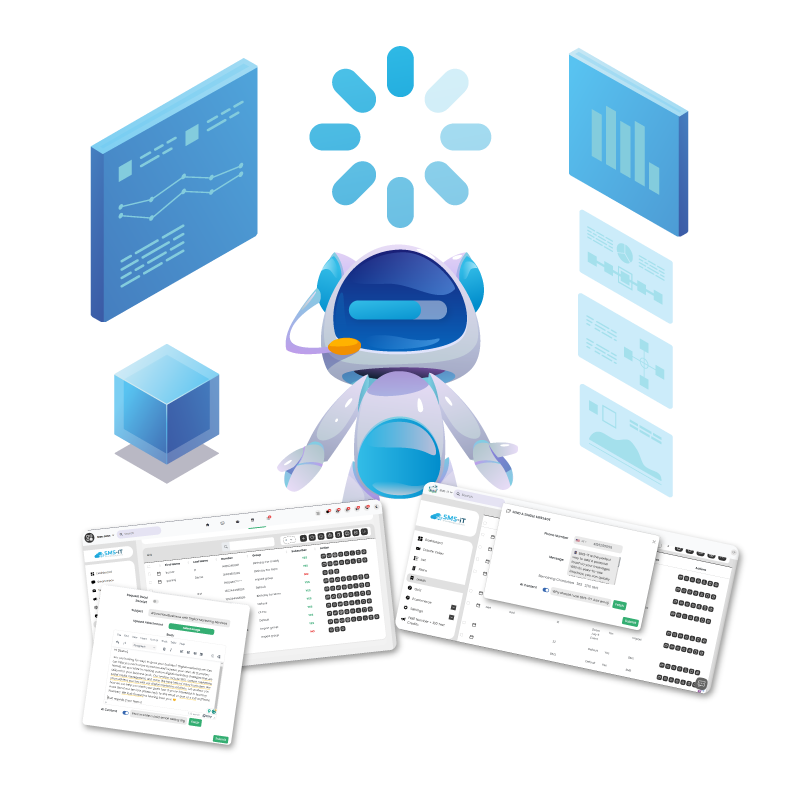 Our mission has always been simple…
…to create a mind-blowing, highly effective CRM designed for any sized business wanting to grow and scale without breaking the bank. And after working thousands of hours, and pushing as hard as we could, our team released the first version of SMS-iT just 18 short months ago.
Since then we've been lucky enough to serve over 14,000+ businesses across the world. 🌎
However…. We knew that there were still so many amazing features that we could build to make our CRM world-class, and stand out from the rest.
Plus, let's be real here, you're probably stuck in the trenches doing the boring work anyways AND missing out on countless new business opportunities. When what you really want to be doing is closing more deals and actually GROWING your business.
How do we know this? Because we've been in your shoes and have lost hundreds of thousands of dollars ($100k+) in the process. So that's when it hit us 💡 Why don't we just rebuild SMS-iT and power it with AI? …great idea right? Only one problem…
No other CRM company has ever built a truly all-in-one, AI-Driven CRM solution. …which meant that we had no blueprint to follow.
We'd have to figure it all out from scratch, and completely evolve the CRM industry. And when our team got together we thought, "What the hell – let's just break the mold and improve every aspect of this CRM".
And that's exactly what we did.
99% Of All CRM's Are Clunky & Overpriced
The #1 reason good businesses fail is because they don't have the right tools. Instead of focusing on getting new customers, they're distracted by outdated systems that often create more problems than they solve.
Instead of focusing on how they can make their product better, other CRM companies spend their time figuring out more ways to nickel and dime their clients. From charging extra per user, to price gouging for sms & call services, and everything in between – slowing your growth and reducing profitability.
This Is How CRM Companies Trap You…
Why do so many businesses keep working with subpar CRM systems that aren't actually helping them grow?
Why are so many businesses settling for ineffective systems that create more problems than they solve?
…because people don't like change.
And that mentality is EXACTLY what old school CRM companies are banking on.
So instead of innovating and simplifying their systems, they just keep collecting money from their dissatisfied customers – aka YOU.
Stop settling for sub-par CRM Solutions.
The world is changing fast, and with the introduction of smart AI tools, businesses have the potential to grow faster than ever before at a fraction of what it normally costs.
And while all those prehistoric CRM companies are banking on their clients never leaving because "changing CRM's is too hard", SMS-iT has changed the game.
It's now easier than ever before to harness the power of an all-in-one AI-Driven CRM machine to run & automate your business while actually saving money.